ACS endoscope reprocessing centers and procedures are designed to take interruptions and unknowns out of scope reprocessing.  Our decontamination processes are managed by experienced endoscope reprocessing technicians who have one overriding daily objective and that is to ensure all endoscopes are reprocessed to be safe for use in the next patient procedure.
Scopes are entered into ACS' reprocessing tracking system immediately upon receipt into the decontamination room in our centers and tracked through each stage in reprocessing so that traceability is ensured for each scope being processed and returned to our customer.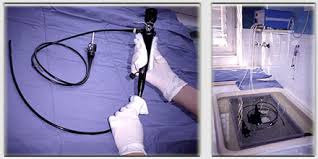 Scopes are visually inspected for any obvious damage upon receipt and leak tested before decontamination processes begin.  If a scope does not pass the visual inspection or the leak test, it will be returned to our customer or sent for repair as the customer directs.  If the scope passes these first inspections, decontamination begins with manual cleaning.
ACS employs both manual cleaning and automated cleaning and testing for residual soils to ensure the scope is cleaned to the generally acceptable standard of <6.4 µ of protein per square centimeter.  Scopes are then appropriately dried and individually packaged for EO sterilization.
All ACS scope cleaning procedures and processes utilize equipment or processes that have been validated for use in cleaning and reprocessing by the equipment manufacturers and/or scope manufacturers.

ACS has validated its proprietary EtO sterilization equipment and processes and certifies that each reprocessed scope is sterile and safe for patient use.  A certificate of appropriate cleaning and sterilization accompanies each scope returned to our customer.
Logistics
ACS works with its customers to identify the best logistical means to ensure timely delivery of the endoscopes to its reprocessing centers after completion of a patient procedure, and timely return of sterile patient ready endoscopes to its customers.  ACS will work with its customers to develop a supply model that will accommodate the individual customer's endoscope needs.
Risk Mitigation
ACS endoscope reprocessing processes have been developed for the purpose of providing a safe patient ready endoscope to our customers and to mitigate risk associated with patient to patient cross contamination caused by an improperly processed endoscope.
Fixed Cost
ACS reprocessing centers produce a sterile, patient ready endoscope at a fixed cost helping to identify for our customers the true cost of each endoscopic patient procedure.