YES, IT IS TRUE!   ACS has recently validated a sterilization cycle for the guaranteed terminal sterilization of reusable endoscopes once they have been properly cleaned. This validated cycle utilizes 96% less vacuum drawn and 80+% less Ethylene Oxide (ETO) to affect a guaranteed efficacy of sterilization at 100%. The "soft" cycle adapted for our process was specifically chosen to maintain the integrity of each scope we process long term and to extend their usable life's expectancy.
This new development has instigated a beginning for the creation of ACS Endoscopic Reprocessing Centers that will clean all scopes complicit with the IFUs of the scope manufacturer and the cleaning AER manufacturers all over the U.S. The process will conclude with the terminal sterilization of these scopes consistent with the new AAMI TIR 56 guidelines recently established for sterilization within an impermeable and flexible bag (a sterilization bag).  It is very exciting news and addresses a solution for a perplexing and historical problem consistently associated with the use of reusable endoscopes.

Scopes enter into an ACS reprocessing tracking system immediately upon receipt. They are then transported to the decontamination room where all cleaning activities are tracked and documented electronically ensuring complete trace-ability for scopes that will eventually be returned to each provider.  Scopes are always visually inspected for any obvious imperfections and they will be subjected to a leak test prior to any decontamination activity.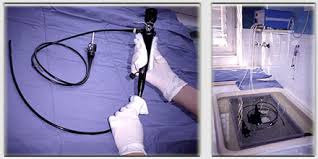 If the scope does pass the visual test and the leak test, decontamination commences with "manual cleaning" first.  This is followed by cleaning via automated AER machines and the scope is then tested to assure they pass the generally accepted benchmark of 6.4 micro grams of protein per centimeter squared (or less). This is called an ATP test. Scopes that pass this test are then dried with a Dri-Scope (Hepa-filtered) dryer and packaged for sterilization.  Packaged scopes are then sterilized utilizing the proprietary A-BIO-VAC Sterilization System that ACS has employed for over 18 years with never a sterility failure. Scopes that are processed through this entire system are clean, sterile, labeled (STERILE) with all documentation archived.

The ACS Endoscopic Reprocessing Centers have been conceptualized for the purpose of providing safe and patient ready endoscopes to our customers and to mitigate the risk associated with the use of these reusable scopes.  The entire project was commenced only after 1 ½ years of sterility testing to eventually validate that we could provide absolute assurance of 100% kill for reusable endoscopes.  We have therefore trademarked this initiative with the name "SafeScopes", because that is what they are.
Contact us, write us, or call us.  We will be happy to talk with you about this new business initiative and to help you evaluate whether "SafeScopes" holds an opportunity for your institution.